Presented by Hometown-Motors, Inc.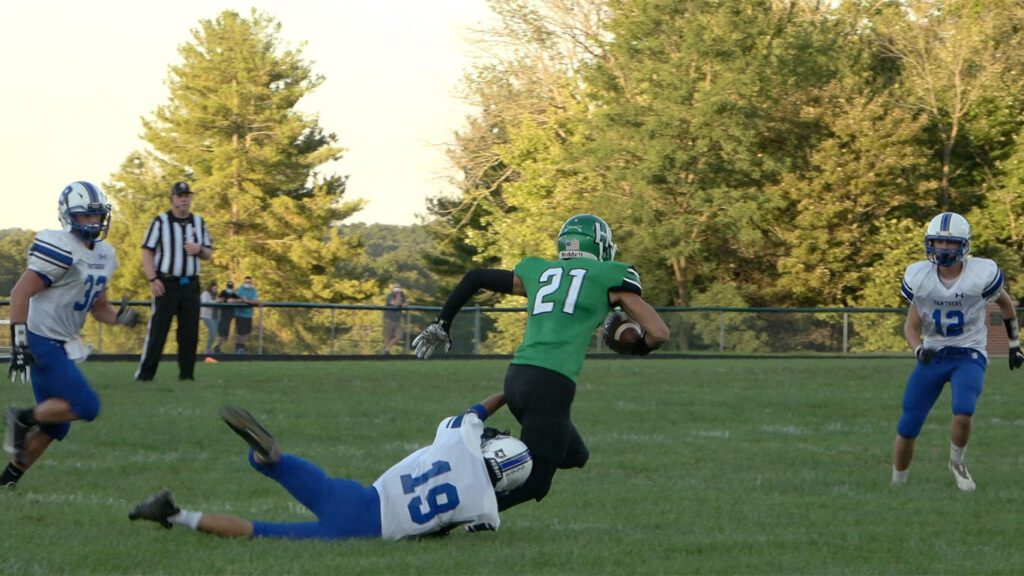 RJ Cartwright's 50-yard interception return snuffed a Huntington rally and secured a 44-28 victory for Southeastern Friday night.
Trailing 36-28, the Huntsmen recovered a Southeastern fumble with under three minutes to play and give Huntington a chance to tie the game. On second down, Nick Marion's pass slipped through the hands of Alan Smith and Cartwright was in the right spot and returned the ball to the end zone. Mikey Nusser tacked on a two-point conversion for the final.
"Tough people win" said Garrett Blair as his Panthers earned their first win of the season. "You're gonna hit an edge and we made our own edge a bunch of times… Like I told them (his team) When the goin' got tough, the tough got goin'. When it counted we made plays and that's what counts."
Southeastern jumped ahead 16-0 on touchdown runs by Clay Morgan and Jarrett McWhorter. The Huntsmen answered with a scoring strike by Marion to Darius Brown to cut the lead with 2:33 remaining in the 1st quarter.
McWhorter scored again to give the Panthers a 22-6 lead at the break.
Nusser rolled for a TD run extending the margin to 30-6 before the Huntsmen answered on a Seth McCloskey run and a two-point conversion pulled Huntington back to 30-14.
Southeastern looked to put the game out of reach on an 8-yard run by Nusser for a 36-14 lead at 5:43 of the 3rd quarter. But the Huntsmen weren't about to go away quietly.
Marion connected again with Brown at 7:39 in the 4th on a 53-yard scoring pass and a two-point conversion cutting the lead to 36-22. Less than two minutes later, Marion hit Emery Woods in stride and Huntington was within a touchdown.
The Huntsmen defense stopped Southeastern to take possession near midfield with just minutes remaining. After an incompletion on first down, Cartwright turned the momentum back to the Panthers with his pick-6.
"I told them after the game, you give us that same type of energy and that same type of passion and play as physical and as smart as you did in the second half, we're gonna be fine" said Huntington's Scott Keller. "We made some adjustments and they went out and they executed… in the past, these kids were so young, that game would've ended up 50 or 55 to 6 and that woulda been ballgame. But you can tell they've matured a lot. They're growin' up and starting to understand, starting to see it."
Southeastern's rushing attack cranked out 400-plus yards on the ground while the Huntsmen did their damage through the air. Marion completed 20-of-35 passes for 256 yards and three TDs with four interceptions. Woods caught 9 balls for 133 yards and a TD with Brown tallying 74 yards on 4 catches and two touchdowns. Smith had 5 receptions for 42 yards. Dalton Haubeil managed 107 yards on the ground on 12 carries.
Southeastern (1-1) hosts Piketon (0-2) in Week 3. The Redstreaks fell to Paint Valley 56-19 Friday.
Huntington (0-2) is home with Paint Valley (1-1) Friday.
Watch for a highlight package of the Panthers and Huntsmen this Tuesday on the Litter Media YouTube channel.