Presented By Hometown-Motors, Inc.
The Hopewell Health Center Mount Logan Clinic in Chillicothe was in the state spotlight Friday morning with the visit of Ohio Lt. Governor Jon Husted, as he toured their COVID-19 vaccination clinic.
Approximately 300 people were scheduled to be vaccinated Friday with their first doses of Moderna vaccine.
After touring the site on East Main Street, the Lt. Governor, along with State Senator Bob Peterson, State Representative Mark Johnson and Hopewell Health CEO Mark Bridenbaugh answered questions from the news media.
On the issue of businesses and jobs negatively impacted by the pandemic, Husted said the state does not track how many business have been closed, but legislators are working on a relief package to keep existing businesses alive.
"The biggest impact has been on the hospitality industry. If you are a restaurant, banquet, catering or a venue where you have weddings, celebrations and things like that. Those are the kind of business hit the hardest. We will never know, we don't keep statistics on those that go out of business and we don't know these kinds of things. We know no doubt, that many people have lost jobs, particularly small businesses"
Husted continued by pointing to the Governor DeWine and the state legislature's efforts in creating aid packages to help struggling businesses and workers who lost their jobs due to the pandemic.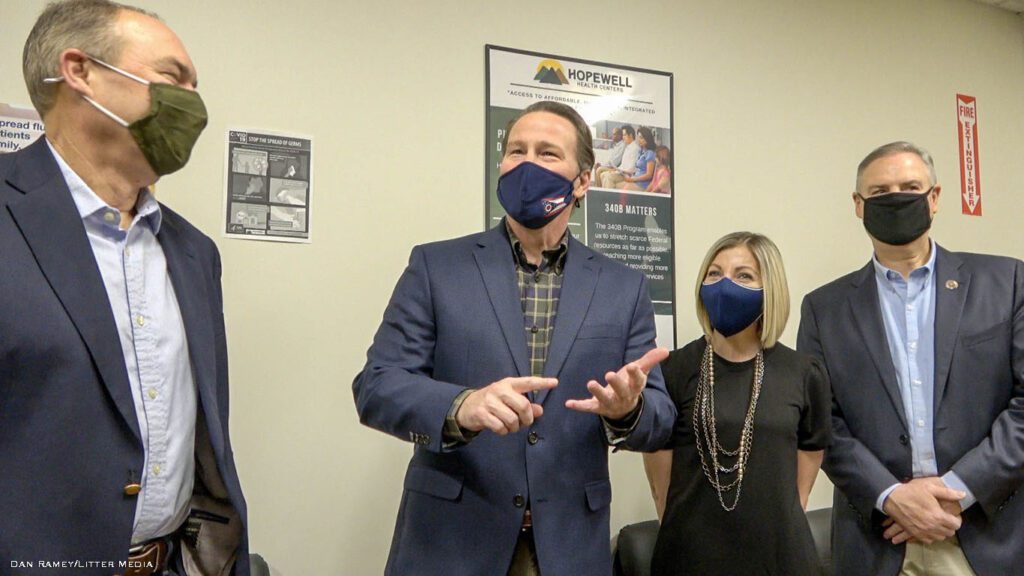 "The governor and I have announced a $1 billion economic package with the help of these gentlemen (state lawmakers) who are going to be working in the general assembly to help fund the relief for small businesses that have 25 employees or fewer- especially focused on restaurants, bars and the indoor entertainment facilities"
State Senator Bob Peterson said "So in general, he (Lt. Governor) largely references the state budget and I am very appreciative as is the Lt. Governor that the budget is balanced and doesn't tap into the rainy day fund and provides some of the growth potential for economic development, helping those people effected most by the pandemic. And even if the pandemic effected you or not, if you are dealing with the opioid crisis or other health issues, we have things in the budget to do with that"
As has been the historical case in times of national crisis, citizens step up to meet the challenge.
Hopewell Health Center CEO Mark Bridenbaugh and the Lt. Governor said they believe the pandemic will spur more people to pursue a career in the health field. Husted says Ohio "has many institutions of higher learning that can train individuals to get on that career path"
Husted also bragged on Hopewell Health Center's work in serving underserved residents in the Chillicothe area.