Presented By Rathkamp Financial
The (3-2) Jackson Ironmen showed great determination in the second half as they overcame a Wheelersburg rally and leaned on their back-up quarterback in a 21-20 overtime victory over the (2-3) Wheelersburg Pirates, Friday in Jackson in our Litter Media Game of the Week.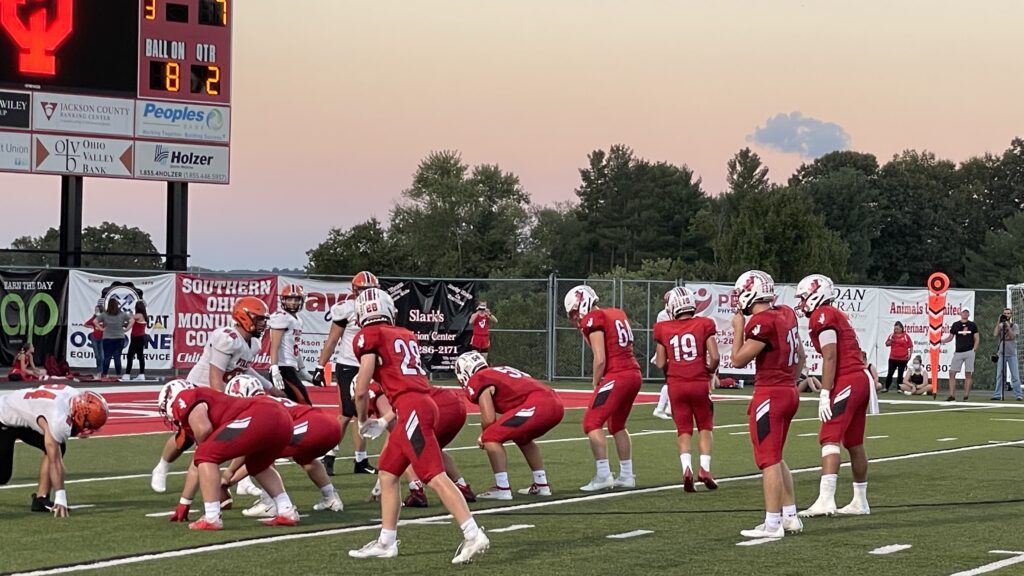 Jackson scored first thanks to a scoop and score TD fumble return by Drew Bragg at 9:41 of the first quarter, followed by the PAT kick from Ethan Crabtree for a 7-0 lead.
Wheelersburg capitalized on a fumble recovery of their own, then later saw Ethan Glover score on a 3 yard run at 2:35 of the first quarter. The PAT kick was good, tying the game at 7-7.
The Ironmen grabbed the lead back at 2:33 of the second quarter, when starting quarterback Evan Spires connected with Eli Broermann on a 17 yard TD strike. The PAT kick gave Jackson a 14-7 advantage, which they would take into the locker room at halftime.
After Jackson's Evan Spires left the game with an injury, Jacob Winters came on in relief to lead the Ironmen's offense the rest of the game.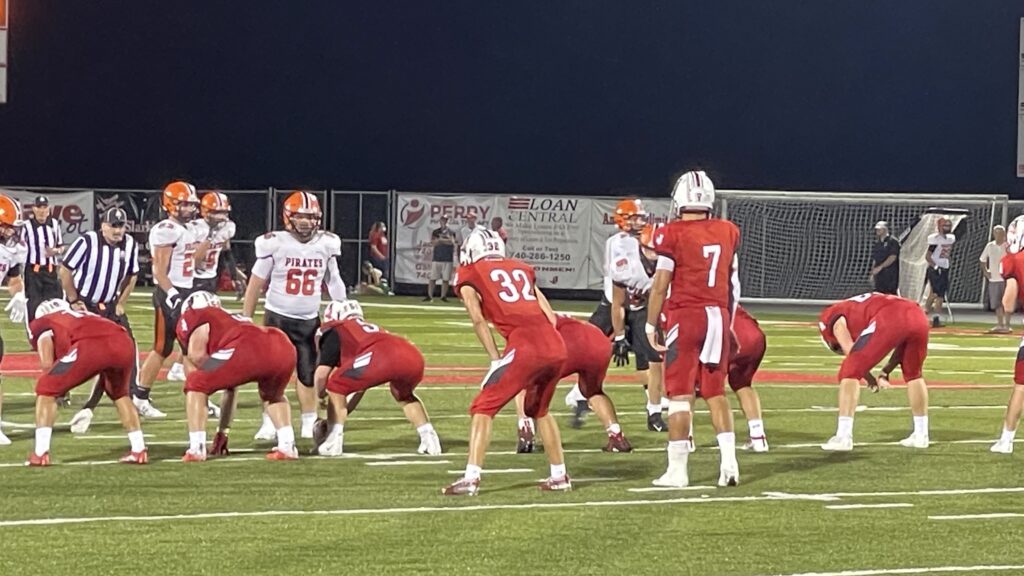 With Jackson leading, the Pirates' Eli Sword provided a key interception deep on Jackson's side of the field with less than 20 seconds to play in the third quarter. That led to an Ethan Glover TD run from one yard out with five seconds left in the third period. The PAT kick evened the score at 14-14 headed to the fourth quarter.
That's the way the score remained until late in regulation play, as the Pirates had a couple of possessions that took the ball into Ironmen territory. With 4:13 left in the fourth quarter, the Pirates had the ball at the Jackson 35, but lost the ball on a fumble. Jackson was unable to get anything going and punted to Wheelersburg's 33 yard line with :38 remaining.
The Pirates crossed midfield and attempted a 51 yard field goal that could have won the game. Braxton Sammons' gave it a gallant try, but his field goal attempt bounced off the crossbar sending the game to overtime at 14-14.
Wheelersburg won the coin-toss and elected to give Jackson the first possession with the ball. The Ironmen's Jacob Winters found Cade Wolford on a 12 yard TD pass and their PAT kick made it 21-14 Jackson.
Wheelersburg took their OT possession and also scored on a two yard run making it 21-20. Electing to go for the win, the Pirates went for two points on the PAT try, but Jackson's defense held on a running play, sealing the home victory 21-20.
Jackson QB Jacob Winters was named McDonald's Player of the Game.
In other Friday Scores:
Jackson 21, Wheelersburg 20 OT … Chillicothe 23, Logan 21 … Western Brown 63, Miami Trace 21 … Hillsboro 51, Clermont Northeastern 13 … McClain 48, Shroder 6 … Waverly 35, Portsmouth 34 … Westfall 12, Southeastern 8 … Piketon 58, Unioto 31 … Zane Trace 40, Huntington 6 … Paint Valley 38, Adena 8 … Logan Elm 21, Circleville 0 … Teays Valley 38, Liberty Union 7 … Bloom-Carroll 34, Amanda-Clearcreek 7 … Vinton County 50, Athens 21. … Nelsonville-York 37, Oak Hill 0 … Lucasville Valley 42, Northwest 18 … Wellston 33, Alexander 14 … Portsmouth West 29, KIPP Columbus 20 … Nelsonville-York 37, Oak Hill 0 …