Presented by Hometown-Motors, Inc.
More than 70 years after high school, Neil Johnston is back home in Chillicothe.
Monday evening, the statue memorializing NBA champion and Hall of Fame Inductee Neil Johnston was placed at the north side of the main entrance to Chillicothe High School's Ellis B. Hatton Memorial Gymnasium.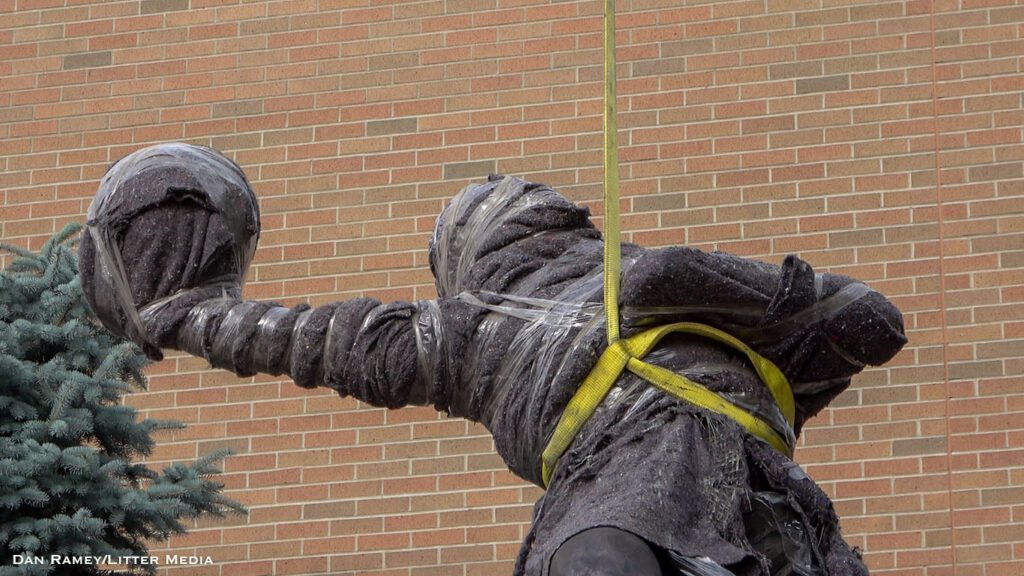 Four years ago when approached by local sports memorabilia collector Bruce Caplinger, noted sculptor Brian Hanlon jumped at the chance to create the lasting image of Johnston.
Caplinger remembers the conversation well.
"He said, Bruce, we're gonna make this happen… it's not a matter of is it gonna happen, but when."
Caplinger began his campaign by presenting the idea of a statue to honor Johnston, a charter member of the CHS Athletic Hall of Fame, to the Board of Education in 2016. The project was expected to cost $50,000, which would be raised by private donations. To assist in lowering the costs, Vince Beverly Concrete donated the foundation on which the sculpture sits. Beverly was a Cavalier Basketball teammate of Caplinger's. Many others made material and service donations as well.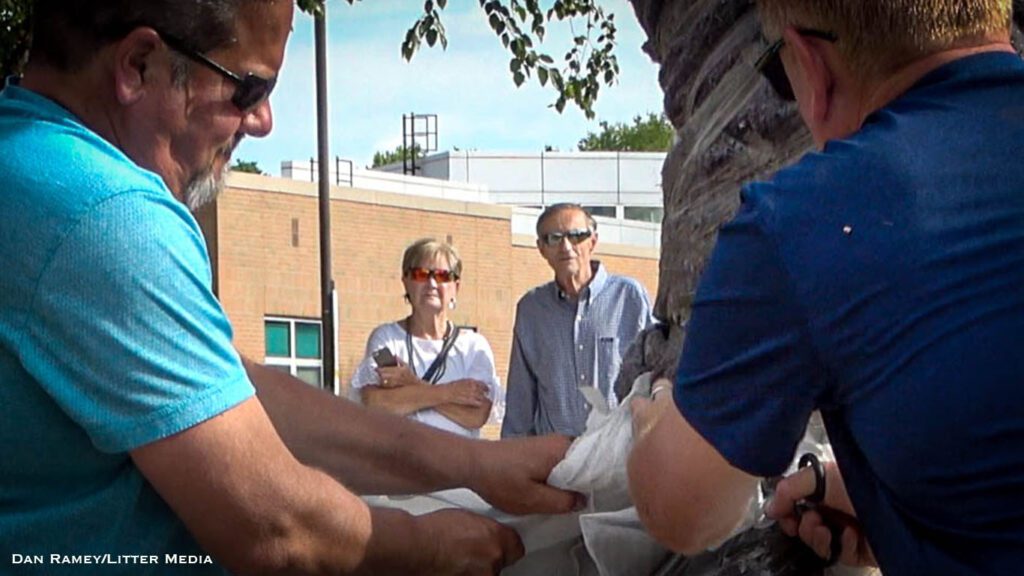 The 11-foot-4-inch tall statue portrays Johnston's patented hook shot while his crew cut, lanky 6-foot-8-inch frame bursts upward through boards of hardwood from the court.
Due to the COVID-19 pandemic, a planned dedication ceremony was postponed in April. "We've had this statue since November of 20th of last year" said Caplinger, who headed up a twenty three member volunteer committee. "We've all agreed, let's set it up, enjoy it and we'll have a nice celebration later on when we can."
SEE THE JOHNSTON STATUE PHOTO ALBUM ON FACEBOOK
After graduation from Chillicothe High School in 1946, Johnston played baseball and basketball at the Ohio State University for two seasons. He left college to pursue a pro baseball career.
Baseball didn't pan out in the minor leagues with Philadelphia Phillies organization, Johnston was given a tryout with the NBA's Philadelphia Warriors. It's where he would make his mark.
After signing with the team, Johnston played 8 NBA seasons (1951-59) and won the 1955-56 NBA championship. He led the NBA in scoring three consecutive seasons (averaging 23.1 ppg), led the Warriors in rebounding five straight seasons and was a six-time NBA All-Star.
In a preview of the 1958 NBA All-Star Game, Sport Illustrated described Johnston's famous hook shot. "He starts with his back to the basket, goes through a rhythmic series of feints to confound his guard and, just as the hoop comes in view in a corner of one eye, he releases the ball. Rhythm, instinct and flash perception make it a deadly shot for Johnston." (Photos by Hy Peskin, January 20, 1958 edition of SI)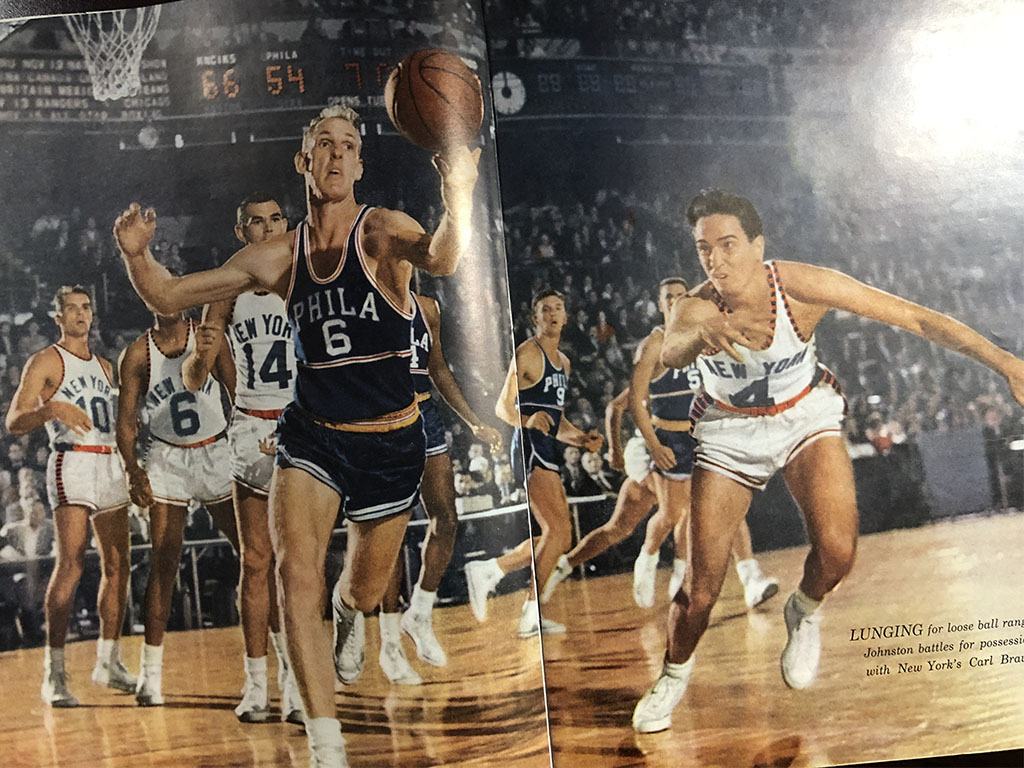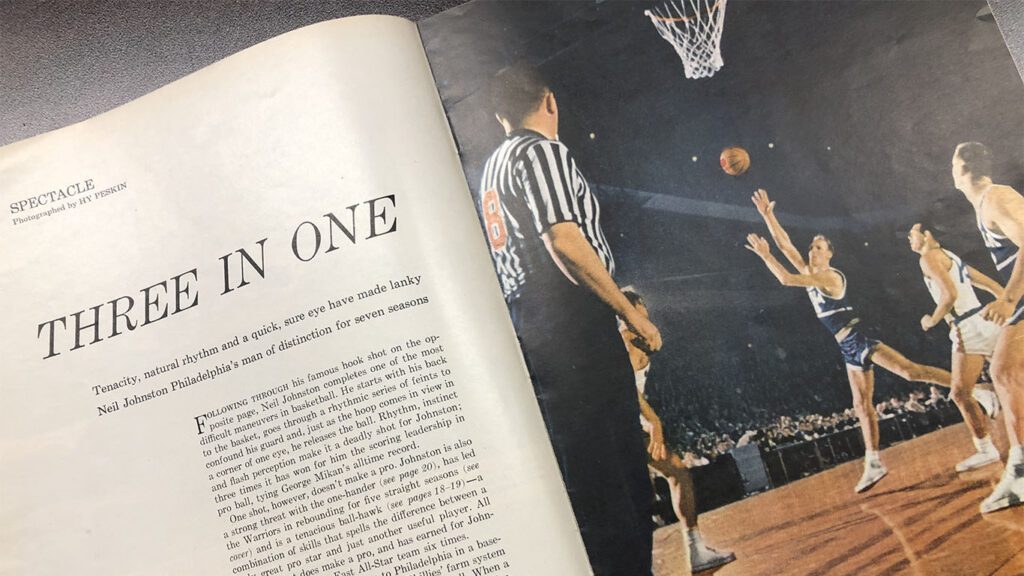 Just a handful of players have led the NBA in scoring at least three season consecutively: George Mikan, Johnston, Wilt Chamberlain, Bob McAdoo, George Gervin, Michael Jordan (twice) and Kevin Durant… pretty good company for a lanky kid from Ohio's First Capital.
A knee injury ended his playing career and he was later hired to coach the Warriors, which included the first two seasons of NBA legend Wilt Chamberlain's career. As head coach, Johnston led Philadelphia to a 95-59 record.
Johnston died of a heart attack in 1978 while playing basketball in Irving, Texas where he was an athletic director of North Lake College.
Johnston was inducted into the Naismith Basketball Hall of Fame in May of 1990 and the Ohio Basketball Hall of Fame in 2008, the same season his alma mater, Chillicothe won its only Boys Basketball state championship.
JOHNSTON IN THE PHILADELPHIA HOF
JOHNSTON IN THE OHIO BASKETBALL HOF