Presented by Hometown-Motors, Inc.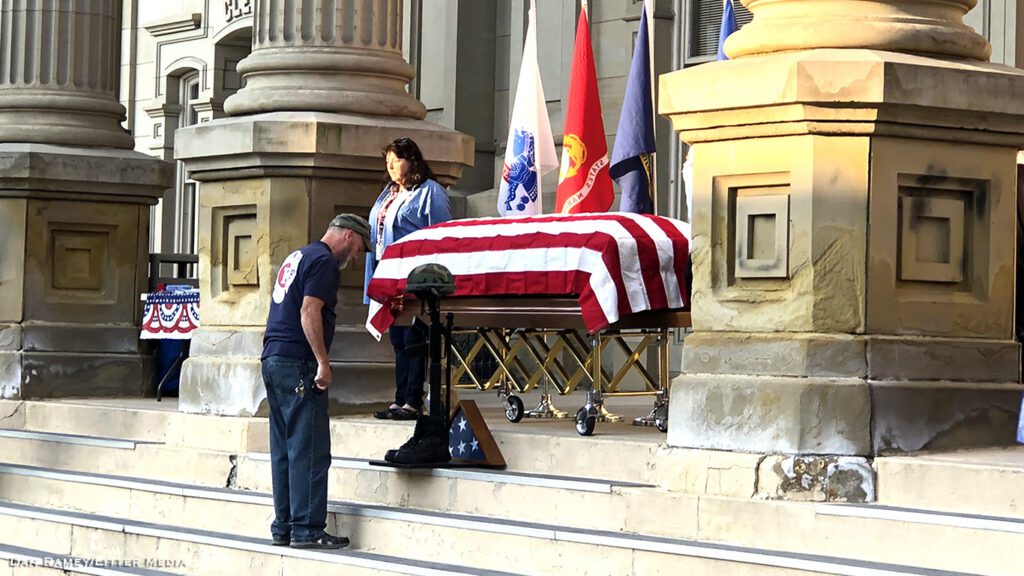 Silent Watch, a movement to bring awareness to Veterans Suicides, is on display in front of the Ross County Courthouse till 5pm September 22, 2020.
The local event, hosted by the Ross County Veterans Office, is a product of a campaign to involve all 88 counties in Ohio.
According to a letter to volunteers by Tim Chandler, organizer and retired Master Sergeant, USAF and Ohio Air National Guard, the idea began from his deployment in 2007.
"They explained that they wanted to have two people stand guard at the main flag pole on Veterans Day from Reveille until Retreat" said Chandler. "This was to honor those who had served and those serving at the installation."
After returning home, Chandler was introduced to the number of Veterans taking their own lives. At the time, it was 18 a day. Now, depending upon the varying statistics available, between 20-25 daily.
Chandler, who said he had his own battles with Post-Traumatic Stress Disorder (PTSD) issues, said "this opened my eyes to the lack of help and support for those who needed it and the apparent lack of help that was available."
Chandler has personally suffered the loss of friends and loved ones to suicide, as has fellow organizers Michelle and Rob Hawks. Michelle's brother Seth took his life just a few months after returning home from duty.
With September now recognized as Suicide Awareness/Prevention Month, Chandler and the Hawks joined efforts to hold Silent Watch in late September. Some of the events have displayed boots representing the number of soldiers lost to suicide daily and some even with photos of those who have made their final rest.
"The response of people was unbelievable" Chandler wrote "and questions were asked all day."
Chandler explains the mission is to "hopefully bring about more help, more hope, and more Veterans who don't take their lives."
Learn more by visiting the Silent Watch Facebook Page.