Presented By Atomic Speedway
The Jackson Ironmen finished the Frontier Athletic Conference football season as unbeaten champs with a 49-0 win at home, over Chillicothe. The win avenges the Cavaliers upset overtime win over Jackson last season, which earned Chillicothe the FAC crown in 2020.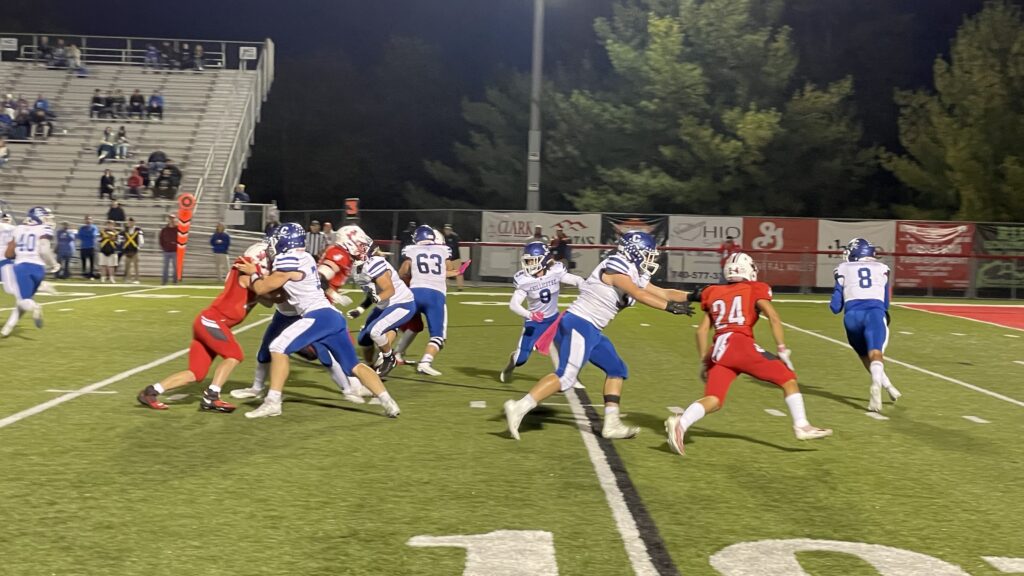 Watch Dan Ramey and Mike Smith on the Litter Media GOTW Postgame Show. CLICK HERE:
(5-0/8-2) Jackson blocked a CHS punt, which set up the Ironmen's first score of the game. Jackson's Holden Blankenship ran 11 yards for a score, and following the PAT kick, they led 7-0 at 10:56 in the first quarter.
Quarterback Jacob Winters' 1 yard keeper at 4:30 of the first quarter and PAT kick gave Jackson a 14-0 lead, which held up to end the first quarter.
One of the few highlights for Chillicothe was a Jaiden Cain interception, picking a deflection out of the air.
Cade Wolford scored the first of his two touchdowns in the game on a 21 yard dash at 7:16 in second quarter for a 21-0 advantage.
Jackson would score two more times in the first half. Jacob Winters 1 yard TD run at 4:19 of the second quarter followed by the PAT made it 28-0.
The Ironman held the Cavs and got the ball back with a little more than one minute left in the half. Jackson drove 88 yards and saw Winters scramble for a 21 yard TD run with 4 seconds left in the first half, sending Jackson to the locker room with a 35-0 lead over Chillicothe.
With the 35 point spread, the second half started with a rolling clock, which never lifted the rest of the game.
Cade Wolford added to the Ironmen's lead to 42-0 on a 12 yard TD run with 4:23 left in the third quarter, which was the score at the end of the third period.
The Cavs best scoring chance came on a field goal try, which went wide-left with 6:45 left in the game.
Jackson freshman Gavin Jones put the final touches on their title win with mostly reserve players in the contest, when Jone plunged into the end zone from 2 yards out with 1:28 remaining, for the final margin of 49-0.
The McDonald's "Player of the Game" was Jackson's Cade Wolford.
Chillicothe closes their regular season at (3-2/5-4) and are questionable to make the post-season cut of 16 teams in their region, which would have them on the road- if they advance.
Jackson will definitely be a top 8 team, meaning they will host a first-round game.
The post-season pairings will be released by the OHSAA on Sunday, and will be found on www.littermedia.com