Presented By Classic Brands
(Waverly) – New Year's Jammin' Eve is set for Friday, December 31st at the Waverly Eagles and features two bands that offer a mix of pop, country, and bluegrass music.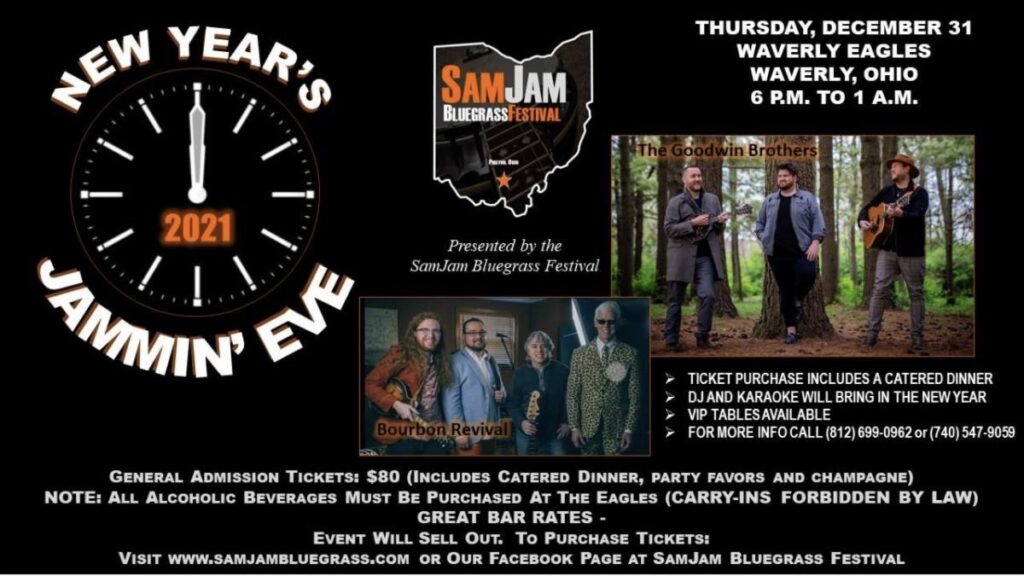 The featured act – The Goodwin Brothers – includes lead singer Kenneth Chase Bush, a finalist during season five of American Idol. The group is from Lexington, Kentucky, and performs a mix of pop, country, and bluegrass music that has made them one of the Ohio Valley's hottest bands.
Following a catered dinner by longtime local restauranteur Lloyd Harmon that begins at 6 p.m., Bourbon Revival will kick off the music. This hard-driving band from Louisville, Kentucky, also performs songs from a range of genres with crowd-pleasing covers and original material.
"When Sam Karr and I began this New Year's Eve event a few years ago, I wanted to create a nice, professional event locally so people from the area didn't have to travel to Columbus or Cincinnati for a New Year's Eve experience," said Rick Greene, a Waverly resident and co-organizer of the SamJam Bluegrass Festival, which sponsors the event with the Waverly Eagles, where the event takes place. "It's a perfect event for a date with a great dinner, great bands, and a local DJ (Matt Snodgrass) who will help us ring in the new year."
Tickets are $80 and all bar proceeds benefit the Waverly Eagles.
"Rick and I make sure that our events have top-quality talent," Karr said. "We're really excited to bring The Goodwin Brothers and Bourbon Revival to Waverly. These aren't necessarily straight-away bluegrass bands, these are versatile bands with talented singers and musicians who will put on a really great show."
To purchase tickets, or for more information, check out the New Year's Jammin' Eve tab on the SamJam website at www.samjambluegrass.com or the festival's Facebook page at SamJam Bluegrass Festival.
Anyone who has questions or is interested in a VIP table for eight can contact Karr at (812) 699-0962 or Greene at (740) 547-9059.