Presented By Chillicothe VAMC
(Chillicothe) – The Chillicothe Paints, presented by Adena Health System, announce the signing of pitcher Cruz McFadden for the upcoming season, which begins on the road at Champion City Wednesday, June 1.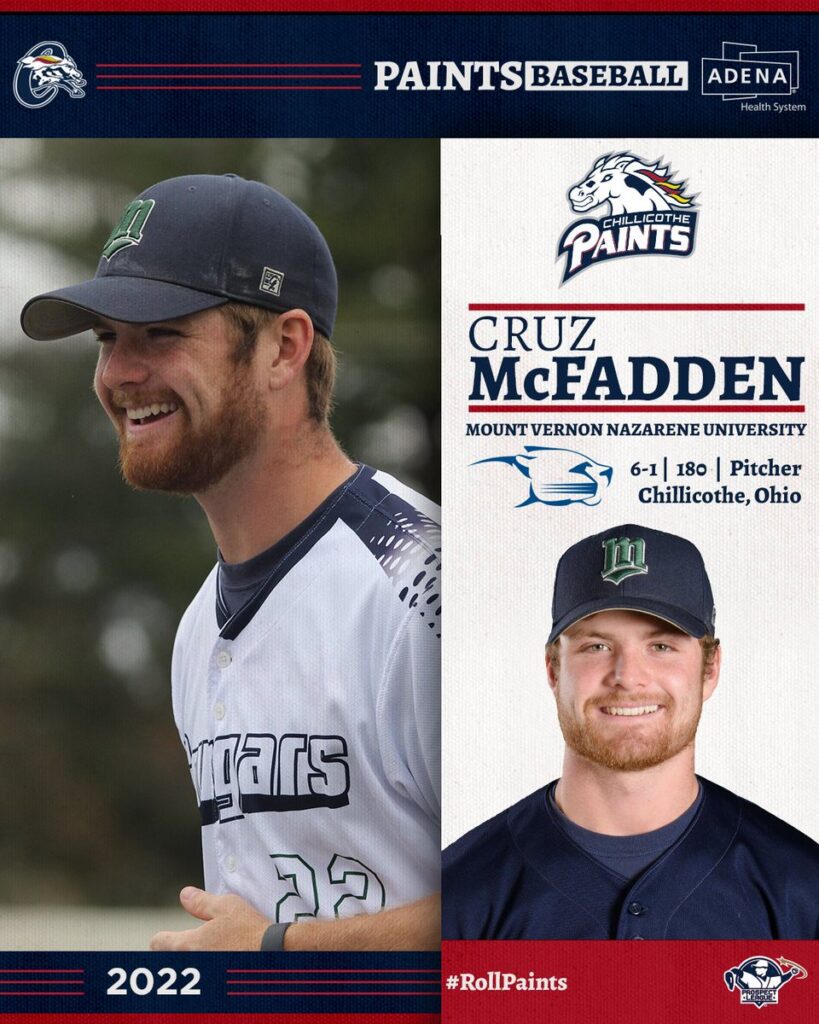 McFadden is currently in his sophomore season at Mount Vernon Nazarene University and, as of April 25, is the NAIA's national saves leader with 12. He also owns the Cougars' all-time save record with 21 – breaking the record earlier this season when he grabbed his 17th career save in a March 29 win over Goshen College.
Having appeared in 18 games so far this season, McFadden has thrown 25 innings, striking out 32 batters and walking only six. His ERA currently sits at 3.33 and opponents are hitting just .250 against him.
The 6-foot-1 Chillicothe native owns a career 3.42 ERA over parts of two seasons with the Cougars, striking out 56 and walking 15 over 50 innings pitched. His 21 saves have come in 36 appearances, not all of which have been save situations.
McFadden is familiar with playing at VA Memorial Stadium, having played a number of high school contests at the venerable ballpark while playing for Paint Valley High School before graduating in 2020. In his first two season as a Bearcat, McFadden struck out over 100 batters. As a sophomore in 2018, he earned five win, while striking out 78 and amassing an ERA of 1.93. Following the season, he was named first-team All-Scioto Valley Conference and second-team All-District. The pitcher was unable to play his junior season due to Tommy John surgery and his senior season was wiped out by the COVID-19 pandemic.
"Cruz grew so much as a leader during his junior season (2019 when we lost to Wheelersburg in district play)," said Paint Valley head coach Shane Combs. "Even while not playing, he was still committed to his team from the start of preseason all the way to the district tournament. He worked so hard and was throwing so well when his senior season (2020) got shut down. That was a tough year for our program not to get to see that team play, but it feels good to see guys like Cruz, Lane (Ruby), and Brock (Blanton) throw at the next level."