Presented By Classic Brands
(Chillicothe) – Zane Trace 6th grade science teacher Melissa Payton is the latest local educator to be recognized as an Outstanding Educator in Ross County by the Chillicothe-Ross Community Foundation.
"With 20 years of service to Zane Trace Local School District Melissa brings academic excellence to her classroom. She works tirelessly to help her students understand science by providing them hands-on experiences. After school hours and at her own expense she works diligently with students in grades 5 through 8 on Science Fair Projects", according to Scott Graham of the Chillicothe-Ross Community Foundation.
As a result of her hard work, Zane Trace had 17 Middle School students participate in the District Science Fair. This represented approximately 25% of all students in an 8-county region. Of those students, 12 made it to the state level. Zane Trace was also recognized as the winner of the District Science Fair for our region.
Melissa is married to her husband Steve and has 2 children (Andrew and Allison twins in 8th Grade). She is also a Junior High Girls Track Coach.
"Through the generosity of the Foundation's donors, The Ross County Outstanding Educator Award provides a grant to one of Ross County's school districts for classroom supplies and/or continuing education," Scott Graham, the Foundation's Executive Director, said.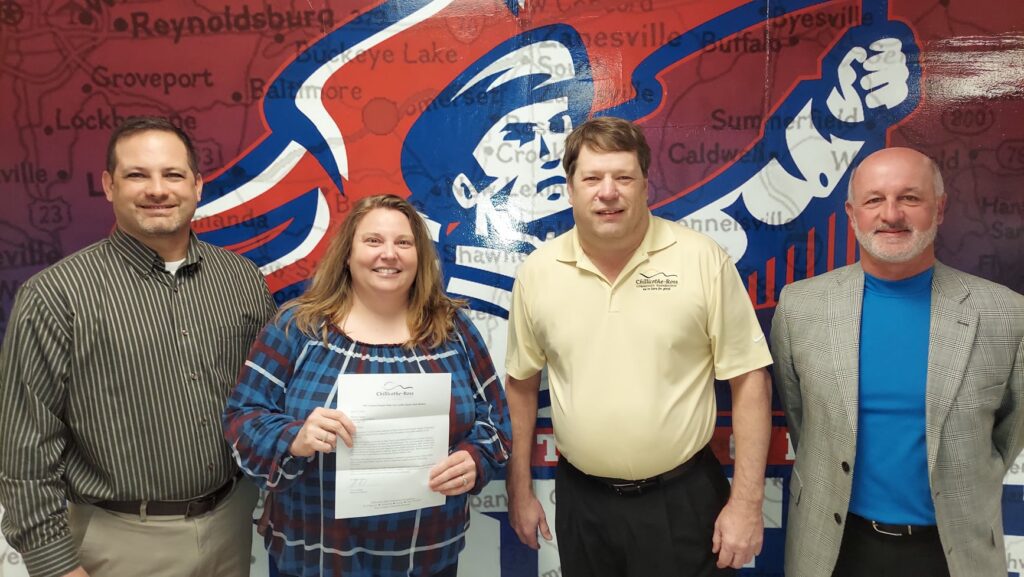 Pictured from left to right are Zane Trace Middle School Principal John Berry, Melissa Payton, Community Foundation Executive Director Scott Graham, and Zane Trace Local Schools Superintendent Jerry Mowery.