Presented by Atomic Speedway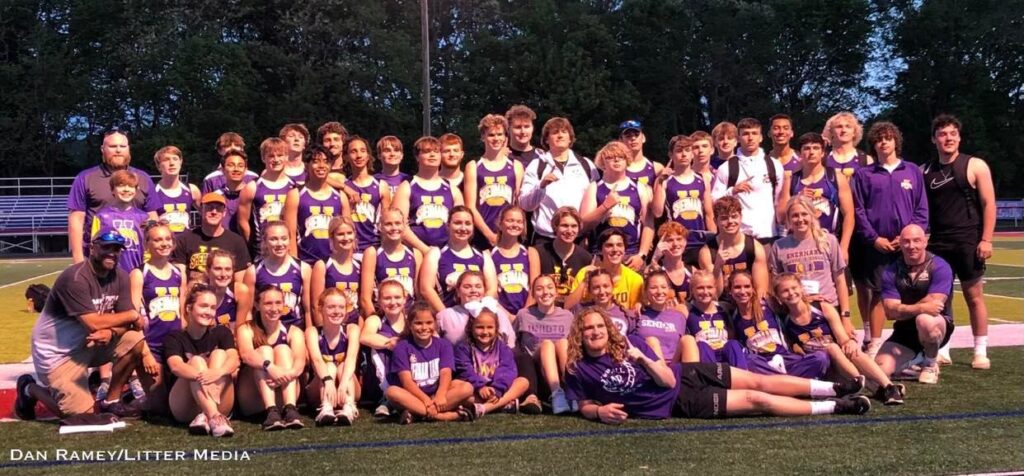 The Unioto Boys and Girls swept the 2022 Scioto Valley Conference Meet held at Zane Trace Friday.
The Shermans (162) finished 34 points ahead of Adena (128) in the Girls Meet. Westfall (113) placed third ahead of Zane Trace (97), Huntington (86), Piketon (38), Paint Valley (13) and Southeastern (6).
For the Boys', The U (149) was followed by Zane Trace (133), Southeastern (83.5), Piketon (74.5), Paint Valley (66), Westfall (59), Huntington (57) and Adena (37).
Top performances included SVC records set in the Pole Vault by Mustangs Tyler Shipley and Peyton Proffitt. Shipley's 14'4" vault shattered the mark set by Huntington's Logan Chaney in 2013 (13'8"). Proffitt's 11'6" vault broke the 2015 record set by Piketon's Maddie Reed (11').
In the other Field Events, Adena's Sydney Foglesong won the Shot Put and Discus with Peyton Proffitt winning the Long Jump and Makaela Lovely won the High Jump. Lucas Ray from Zane Trace won the High Jump, Paint Valley's Cole Miller the Long Jump, Spencer Brower of Zane Trace took the Shot put and Alan Auston threw the Discus the farthest.
Paris DeBord finished ahead of the field in the Girls 100 and 200 meter dashes. Paint Valley's Cole Miller did the same in the Boys Meet.
Zane Trace's Brooklyn Wade grabbed the top spot in the Girls 400 while Huntington's Seth McCloskey won the Boys 400. The Pioneers' Marie Southern finished ahead of the field in the 800 and 1600 Meter Runs and Gabe Lynch from Unioto placed ahead of the field in both as well.
Unioto's Briana Nelson took the Girls 3200 and Corey Schobelock finished first.
The Shermans took first in the Girls 4×100, 4×200 and 4×400 relays while Zane Trace finished ahead of Unioto in the 4×800. It was similar for the Boys, winning the 4×100, 4×200 and 4×800, but Huntington took the 4×400.
The Girls 100 Meter Hurdles went to Westfall's Peyton Proffitt and Unioto's Karlee Renner was tops in the 300 Meter Hurdles. For the Boys, Jacob Lennox of Southeastern took the 100 Hurdles and Unioto's Maddox Fox won the 300 Hurdles.
Up next for the teams, the District Tournaments beginning Monday and Tuesday.