Article Presented By Horizon Connects
The Chillicothe Girls Tennis Team closed out the League with a 5-0 win over Hillsboro to win the FAC Championship.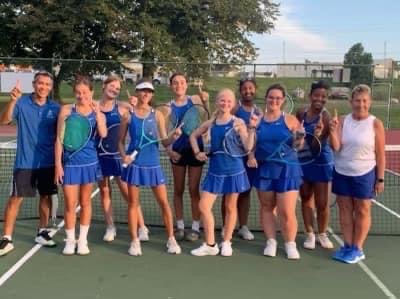 1S Bella Flores defeated Scarlett Studebaker (H) 6-0/6-0
2S Haley Laughlin defeated Aly Johnson(H) 6-3/6-1
3S Avery Miller defeated Savannah Sexton(H) 6-0/6-1
1D Jacey Harding/Taysia Yusuf defeated Jenna Hart/Keyle Johnson(H) 6-2/6-4
2D Kynze Bayes/Keyera Hatfield defeated Brianna Bowen/Lare Pahlke (H) 6-2/4-2 retired.
Chillicothe won the League with a record of (7-1) and an  overall record of (9-4). Bella was (8-0) in the league and Haley was (7-1).
Next match is Thursday 9/22 HOME against Pickerington North. The match will start at 3:45pm