Article Presented By McDonald's
Only one of the three Southeast District volleyball teams in Division 3 will advance to the Division 3 Regional Championship Saturday, following semifinal action Thursday at Logan High School.
(23-3) South Webster fell to (24-2) Byesville Meadowbrook (25-23, 25-19, 25-22) in the first semifinal, while (24-2) Adena rallied to beat (24-2) Wheelersburg (14-25, 25-20, 25-18, 25-20).
Adena and Meadowbrook play for a berth to the State Final Four at 2pm Saturday at Logan High School.
MEADOWBROOK 3, SOUTH WEBSTER 0
The Jeeps took early leads in each of the three sets, only to see Meadowbrook battle back each time, prevailing in the three-set sweep.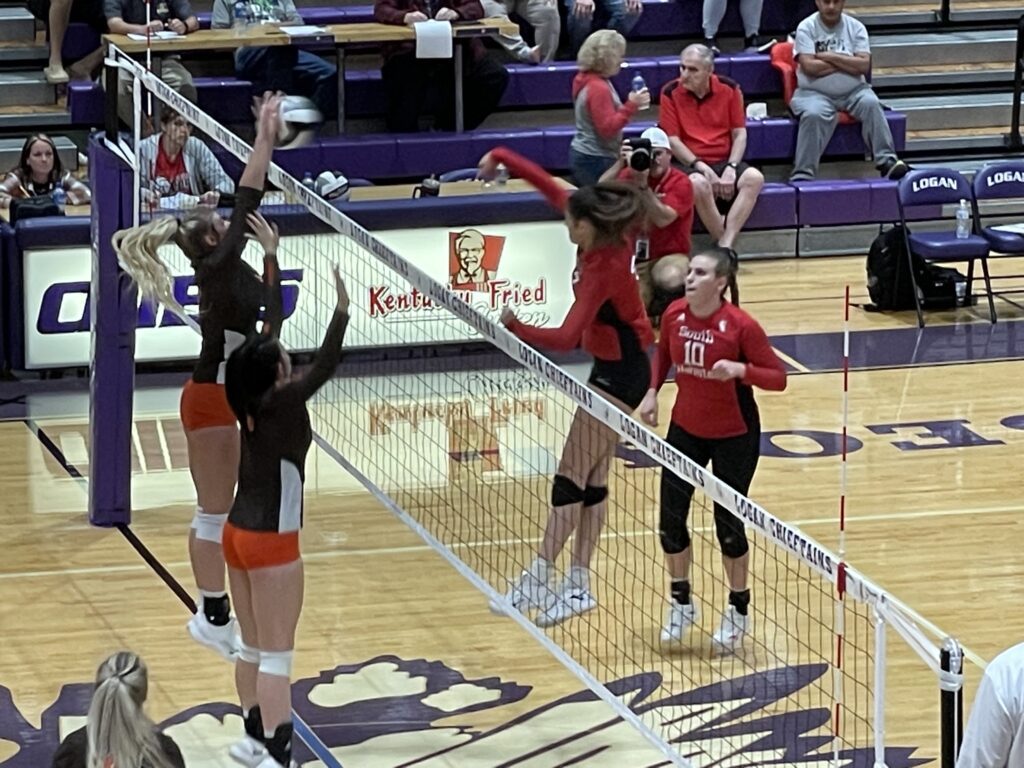 South Webster had leads of 6-1 in Set #1 before the Meadowbrook Colts rallied, where the set stayed close until late. The Jeeps last lead was at 15-14, then found themselves trailing as much as 23-17 when the Colts front-row came to life. South Webster stormed back, getting to within 24-23, before the Colts ended it at 25-23.
Set #2 again saw SW take leads of 4-0 and 6-2, with their final lead in the set at 10-9. Meadowbrook proceeded to go on a 9-0 run for an 18-10 lead and closed out the set 25-19.
Set #3 was another South Webster quick start with leads of 5-1 and 8-4. After the Colts drew even at 8-8, both teams traded punches with each having small leads. Trailing 15-12, South Webster went on a 5-0 run for a 17-15 lead, forcing Colts Coach Kelly Zehnder to call a timeout. That was followed by a 4-0 Meadowbrook run for a 19-17 advantage. The Jeeps battled back and had a lead as late as 21-19, only to yield a 3-0 run as the Colts took a 22-21 lead. The Jeeps drew even at 22-22, only to see Meadowbrook complete the sweep with a 25-22 win.
Unofficial stats show South Webster was led by Bella Claxon and Skylar Zimmerman with 7 kills each, followed by Natalie Adkins with 5 kills and Makayla Raynard with 4. M. Raynard and Mia Crum each had two blocks. Addison Claxon had 18 digs, Makayla Raynard 13, Bella Claxon and Lauren Kaltenbach with 12 each and Skylar Zimmerman with 11. The Jeeps were greatly aided with 10 serving aces, 5 of which came from Bella Claxon.
Meadowbrook's unofficial stats show Kendyl Cannon with 13 kills, Camden Black with 12 and Megan Devillez with 5. Mylee Arnold had 18 digs, Camden Black with 16 and Karly Launder with 15. The Collts had 6 serving aces.
ADENA 3, WHEELERSBURG 1
The Regional nightcap witnessed (24-2) Wheelersburg throttling (24-2) Adena 25-14 in the opening set, completely dominating every aspect of the set. The Pirates broke away early, building leads of 5-0, 8-3, 13-6 and left Warriors looking flat-footed in Burg's double-digit win.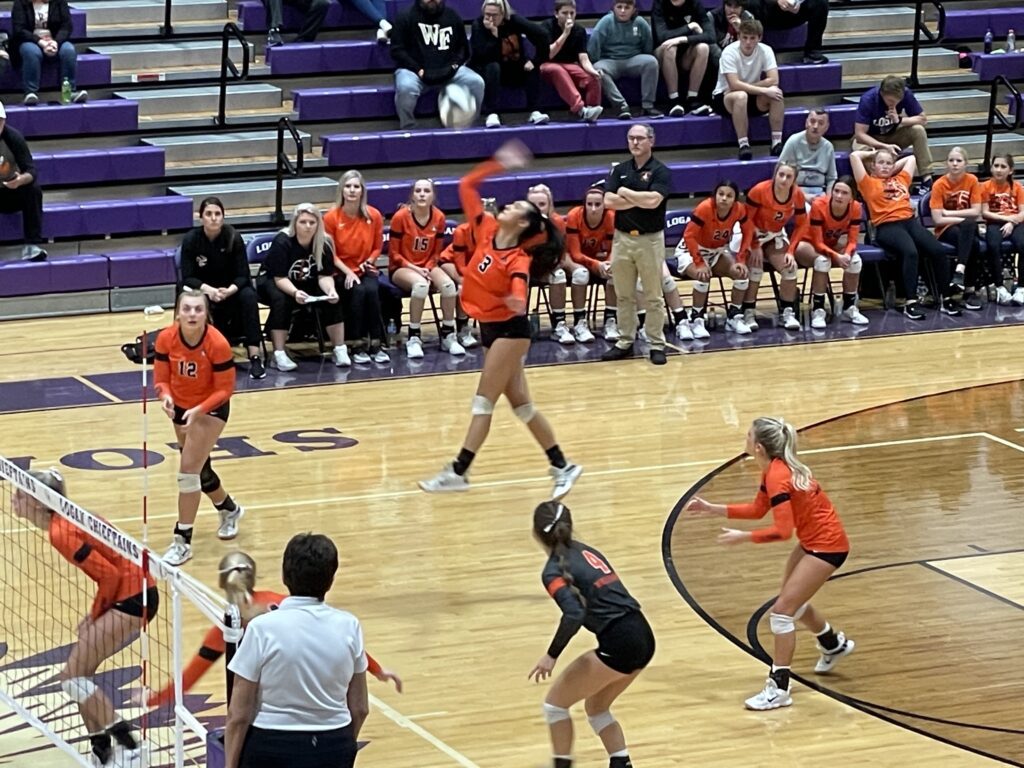 Set #2 again saw Wheelersburg out of the gates quickly, with leads of 6-3, before the Warriors came to life. Adena took their first lead at 9-8 and were up 11-8 when Pirates Coach Allen Perry called a timeout. Burg responded and got the lead back at 15-12. But, the Warriors proceeded to go on a 4-0 run for a 16-15 advantage, with the lead see-sawing back and forth to 18-18. Wheelersburg went up 20-18 and appeared to be on the fast-track to a (2-0) match lead. That's when it appeared the match momentum turned to Adena, as they came to life behind strong serving and Hannah Burns relentless offensive attack, as the Warriors closed on a 7-0 run to even the match with a 25-20 win.
Set #3 had the Warriors leading most of the way, building leads of 7-3, 9-5 and 11-7, before the Pirates responded for a 4-0 run to tie it 11-11. After brief leads by Adena, the score would be tied again at 14-14 and 16-16. Adena then closed on a 9-2 run for a 25-18 win and a (2-1) match lead.
In the must-win Set #4, the Pirates fell behind early and were down 17-11 and later 22-14. Wheelersburg had one more big run in them, getting the deficit cut to 22-19, only to see Adena regain the momentum to outscore the Pirates 3-1 to close with a 25-20 win and the (3-1) match victory.
Adena's unofficial stats had Sydney Foglesong with 15 kills and Hannah Burns with 14. Brinlee Preston added 9 points and 3 blocks, Eva Kruger had 4 kills and Katie Burns with 3. Grace Townsend added 2 kills. Brooke Bossert anchored the defense with 28 digs, Eva Kruger had 18 digs, Grace Townsend 13 and Hannah Burns with 10.
Wheelersburg was led by Lexie Rucker with 15 kills, 11 of which came in the first set-and-a-half. Madie Mays had 13 kills, Gracie Perkins and Makenna Walker each added 5 kills. Perkins also had 3 blocks. Kierra Kennard had 27 digs, Lexie Rucker 18, Madison Whittaker 16 and Makenna Walker with 12 digs.
Adena served 9 aces, led by Brenna McQuiniff with 4 and Eva Kruger with 2. Wheelersburg had 5 serving aces, led by Walker with 4.