Article Presented By Accurate Heating, Cooling & Plumbing…
Paint Valley's Braylon Robertson was a one-man wrecking crew Friday in the Bearcats 41-20 win over Westfall. Robertson rushed for 231 yards, scored 3 touchdowns, had double-digit tackles and one interception to be awarded Litter Media Radio's "McDonald's Player of the Game".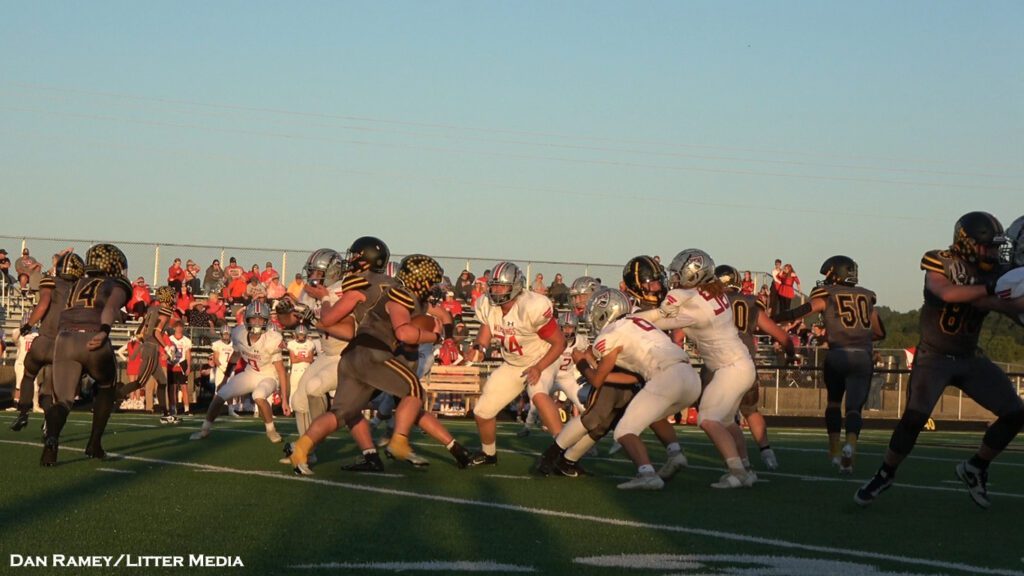 The Bearcats amassed 471 total yards in the win, with quarterback Preston Fauber completing 11/12 passes for 135 yards and tossing two touchdowns. He also rushed for 77 yards on 7 carries. Along with Robertson, receiver Carson Free had a big night with 7 receptions for 85 yards.
Westfall racked up 330 total yards, with an even mix of 172 passing from Bryce Wickline and 158 rushing.
If there were any negatives for Paint Valley, it would have been their 11 penalties for 105 yards and losing two of the four on-side kicks the Mustangs attempted. Westfall's nemesis continues to be turnovers, losing 3 for the game, including 2 interceptions on their first two possessions.
Paint Valley jumped out to a 7-0 lead on a 10 yard run by Robertson, capping a TD drive of 33 yards on 4 plays at 10:39 of the first quarter, set-up by a Westfall interception on the second play of the game. The Bearcats increased their lead to 14-0 at 8:01 of the second quarter, driving 92 yards in 14 plays and completing it on a 7 yard Fauber to Bryson Dunham pass. That remained the score at halftime.
Westfall closed the gap to 14-7, recovering an on-side kick to start the second half, then driving 48 yards in 4 plays with a Bryce Wickline 7 yard scoring run at 10:40 in the third quarter. That margin didn't last long, as a failed on-side kick gave Paint Valley a short field of 45 yards, with Robertson scoring three plays later from 34 yards out for a 21-7 lead at 9:37 of the third quarter.
The Bearcats extended their lead to 27-7 when Robertson dashed 41 yards for a score at 5:13 of the third quarter, then a scoop and score, five seconds later by PV's Gage Wagner, when Westfall bobbled the ensuing kickoff for a PV 33-7 lead.
The Mustangs cut the margin to 33-14, driving 91 yards in 8 plays, capped off by a Cade Hall 1 yard run at 1:45 left in the third quarter.
Paint Valley tallied their final touchdown at 7:22 of the fourth quarter on a 7 yard pass from Fauber to Carson Free for a 41-14 lead, before Westfall scored at 6:48 remaining on a Wickline 1 yard run, setup by a Trent Walters kickoff return to the Bearcats 27 yard line.
Paint Valley improves to (2-0/4-1) while Westfall drops to (0-2/2-3).