Article Presented By Pickaway Ross CTC…
The Ross County Continuum of Care to End Homelessness is hosting the Stand Down 2023 Event Friday September 15, 2023. The event runs between 10am-2pm at Chillicothe's Poland Park.
Local assistance will include food, clothing, health and housing resource information.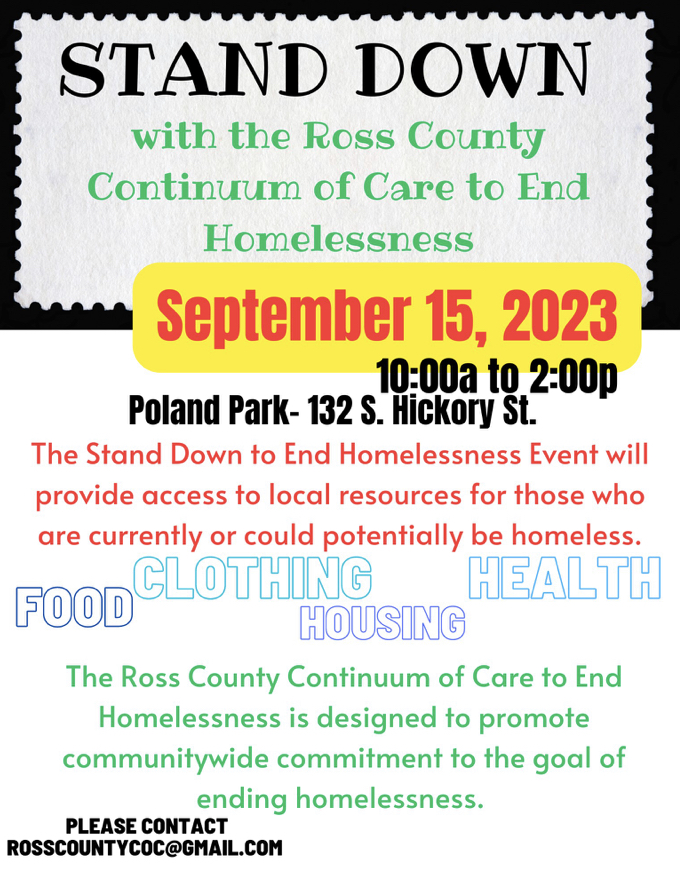 32 local agencies will be on-hand to share resources with the homeless community. Those agencies are as follows:
Lutheran Social Services
Ohio Means Jobs
Soldiers Angels
Anthem Blue Cross and Blue Shield
Southeastern Ohio Legal Services
Ross County Reentry Coalition
Military Veterans Resource Center
Brightview
CareSource
Ross County Health District
Chillicothe Police Department
Integrated Services for Behavioral Health
Chillicothe VA
Ohio Justice Bus
NAMI Southern Ohio
Humana Healthy Horizons in Ohio
Vantage Work Force Solutions
Chillicothe City School District
Chillicothe Metropolitan Housing Authority
Ohio University School of Nursing
Adena Health Advocacy Program
Ross County Veterans Office
Another Chance Ministry
Chillicothe Treatment Services
Social Security Administration
Mountain Comprehensive Care Center
South Central Ohio Job & Family Services
Talbot Health Services
Path Behavioral Health
Pickaway Ross CTC
Ross County Community Action
Jackson County Health Dept.