Article Presented By Classic Brands…
MAHOMET, Ill. – The Prospect League carries significant momentum into the 2023 offseason powered by new total attendance records set during the summer. More than 575K fans attended games during the 2023 season, setting new all-time overall and average attendance highs. This season's attendance marked the largest year-to-year increase in league history and was best among all summer collegiate leagues.
"The attendance surge this season proved that fans seek the quality baseball, family-friendly entertainment, and fun atmosphere provided by the Prospect League," said first-year Commissioner David Brauer.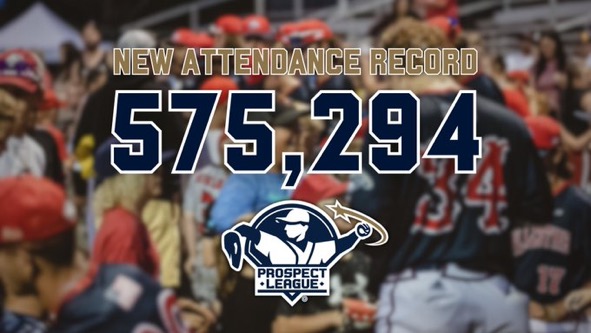 The Prospect League saw growth across multiple areas while achieving new attendance standards in 2023:
Overall Attendance Record: The Prospect League's 17 teams drew a record 575,294 fans during the 2023 season, the first time the Prospect League eclipsed the half-million attendance mark. The Clinton LumberKings led the league in total attendance for the third consecutive season with 80,904 fans, the 13th-highest figure in all of summer collegiate baseball.


NelsonCorp Field, Clinton LumberKings
Highest Total Attendance Percentage Growth in Summer Collegiate Baseball: The Prospect League saw a total attendance increase of more than 23% this season compared to 2022. That jump was the largest in all of summer collegiate baseball, besting the West Coast (15%), Northwoods (12%), and Appalachian (10%) Leagues. The Prospect League achieved the fourth-highest overall attendance in summer collegiate baseball, finishing ahead of the Cape Cod, Coastal Plains, and Appalachian Leagues.


Loeb Stadium, Lafayette Aviators
Largest Year-to-Year Growth in League History: 109,347 more fans attended Prospect League games in 2023 than during the 2022 campaign. That increase was the largest jump in league history and boosted per game average attendance by nearly 200 fans from 1,041 (in 2022) to 1,234 (in 2023). The Springfield Lucky Horseshoes enjoyed the league's largest team increase with 10,645 more fans this season.


Robin Roberts Stadium, Springfield Lucky Horseshoes
Fans Turn Out in New Markets: New in 2023, the Thrillville Thrillbillies and Jackson Rockabillys each made significant marks on the Prospect League's attendance growth. The Thrillbillies, based in Marion, Ill., drew 63,070 fans during their inaugural season, the second-highest total in the Prospect League and the 18th most in summer collegiate baseball. The Rockabillys, in Jackson, Tenn., drew 46,949 fans, fifth most in the Prospect League and 38th overall in summer collegiate baseball.


Jackson Baseball Stadium, Jackson Rockabillys
10 Teams Increased Average Attendance: Ten of the Prospect League's 15 returning teams recorded average attendance increases over the previous season. The Alton (Ill.) River Dragons, Burlington (Iowa) Bees, Cape (Cape Girardeau, Mo.) Catfish, Champion City (Springfield, Ohio) Kings, Clinton (Iowa) LumberKings, Danville (Ill.) Dans, Illinois Valley (Peru, Ill.) Pistol Shrimp, Normal (Ill.), CornBelters, O'Fallon (Mo.) Hoots, and Springfield (Ill.) Lucky Horseshoes all achieved higher per game figures this summer. Both Cape and Illinois Valley saw record jumps in total and average attendance during their fourth Prospect League seasons.


Schweickert Stadium, Illinois Valley Pistol Shrimp
Prospect League's First Half-Millionth Fan: The Prospect League recognized its initial half-millionth fan this season. Tracey Glenn from Cape Girardeau, Mo., attended the Cape Catfish game on the night the league topped 500,000 total fans. To celebrate the milestone, Glenn received a prize pack including a special Half-Millionth fan jersey.


Tracy Glenn (Middle) with Cape Catfish President Glenn Campbell (Left) & General Manager Mark Hogan (Right)
Along with the rise in support for summer collegiate baseball nationally, the Prospect League looks forward to continued growth thanks to its dedicated fans responsible for the multiple attendance milestones achieved in 2023. 
"The League, our individual teams, and each of our players are deeply appreciative of the tremendous fan support shown in our markets. Smashing attendance records with significant growth league-wide illustrates an appetite for our product among avid and casual fans alike. We are confident this momentum will carry forward as the Prospect League continues to give fans more in 2024," said Brauer.