Article Presented By Classic Brands
The July 4th weekend celebration will not be overlooked by the Scioto Society's outdoor drama "TECUMSEH!". Three special nights will be featured by the outdoor drama, with one of those being the Chillicothe July 4th Fireworks in Yoctangee Park.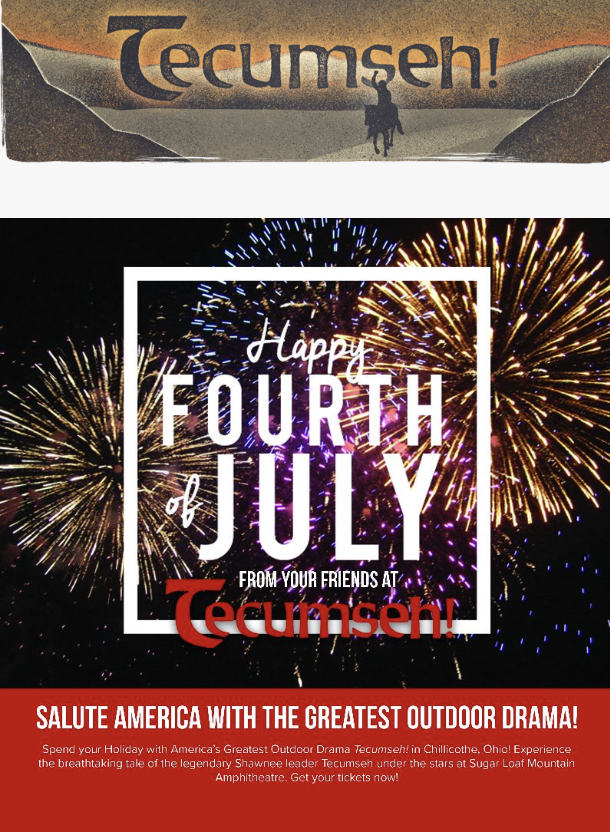 Military Appreciation Night, Friday July 1
On this special evening, all veterans and active military will be admitted for FREE along with one guest. Free military tickets are available by calling the box office at 740-775-0700. Valid ID will be required at the time of pick up. The Tecumseh Alumni Association will be holding a cookout for veterans prior to the event, beginning at 6PM. The cookout is free to all veterans and active military and admittance will be granted with your ticket for the evenings show.
$7.04 Ticket Night, Sunday July 3
Tickets start at just $7.04 for this special Independence Day eve performance! Get tickets quick, and this show will very likely sell out!
Chillicothe's July 4th Celebration
Join The City of Chillicothe, The Chillicothe Noon Rotary Club, Adena Health Systems and Tecumseh, as we present Chillicothe's biggest July 4th celebration in decades!  All events are FREE.
Start your day in Yoctangee Park with Chillicothe Community Day, hosted at Bolmer Field.  Food trucks, free hot dogs, face painting, bounce houses and more.  12-6. Then get ready for the biggest fireworks display Chillicothe has seen in years.  Best viewing areas are on the flood wall in the park.