Article presented by Accurate Heating, Cooling & Plumbing
In a high school football match-up that had not been played in 80 years, the Chillicothe Cavaliers and Waverly Tigers squared-off Friday night, with the Cavs coming away with a 42-12 victory.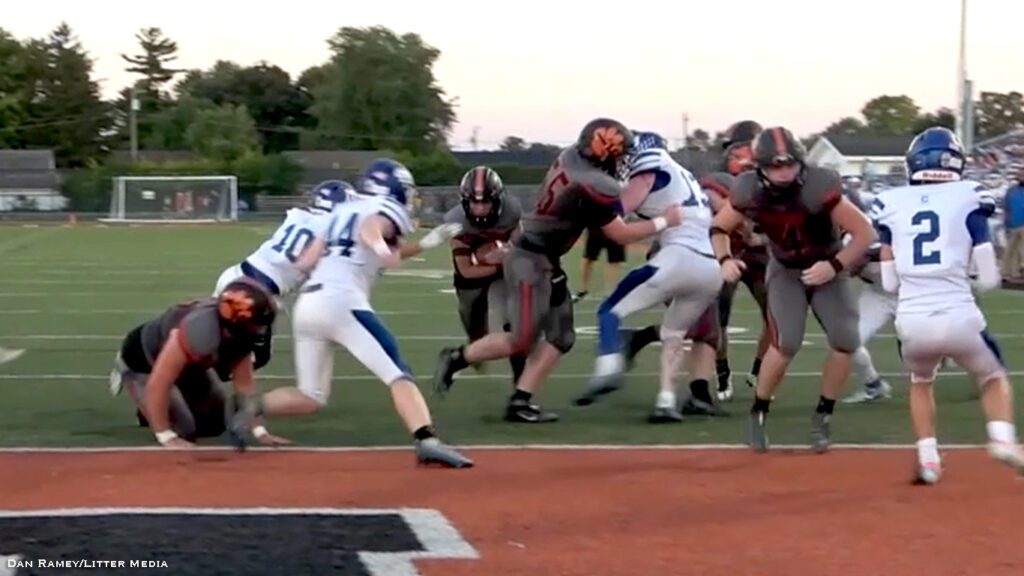 Chillicothe got the scoring started at 7:59 of the opening quarter, with Oscar Morgan scoring a TD from one yard out to cap-off a 9 play/69 yard drive. The PAT frm Mason Siberell put the Cavs up 7-0.
The Cavs made it 14-0 on a 1 yard run from Max Lee to cap a 6 play/39 yard drive at the the 4:55 mark of the first quarter. A couple of minutes later, that lead grew to 21-0 when Max Lee scored on a 12 yard run at 2:31 left in the opening period. That drive covered 63 yards in 3 plays.
The Tigers got on the scoreboard with 10:01 to play in the second quarter as Jase Hurd ran 1 yard for the TD. The PAT failed, leaving Chillicothe with a 21-6 lead.
Chillicothe extended their lead to 28-6 when Coen Butler caught an 84 yard TD pass from Cadin Eblinon a 3 play drive.
Waverly cut the margin to 28-12 at 6:10 remaining in the half with a Jase Hurd 1 yard run to cap a 10 play/69 yard drive.
The Cavs made it 35-12 at 2:18 left in the half, when Tayvion Galloway caught a 4 yard scoring pass from Mason Doughty to complete an 8 play/65 yard drive to complete the score at halftime.
Chillicothe gets the final margin of 42-12 at 5:55 to play in the third quarter when Max Lee ran 17 yards to cap a 10 play/48 yard drive.
The Cavs rolled up 377 yards in total offense, with 199 in the air on 12/18 passing, while gaining 178 on the ground. Oscar Morgan rushed 11 times for 128 yards for 1 TD, and Max Lee had 110 yards on 12 carries and 3 TD's.
Waverly had 165 total yards, with 90 on the ground and 75 passing. Jase Hurd led the rushing with 92 yards on 23 carries, scoring twice.
Chillicothe's Mason Doughty was named McDonald's Player of the Game.
Chillicothe improves to (3-1) while the Tigers dropped to (2-2).
Watch the highlights, along with coach and player interviews on the Litter Media Postgame Show. CLICK THE IMAGE BELOW: