Presented by Accurate Heating, Cooling & Plumbing
According to a tweet by ESPN College Football Insider Pete Thamel, 2008 Teays Valley graduate Walter Stewart is returning to his college alma mater as Outside Linebackers Coach for Luke Fickell.
Stewart was a linebacker for the UC Bearcats from 2008-2012. The last three seasons, he was the Defensive Line Coach for the Temple Owls.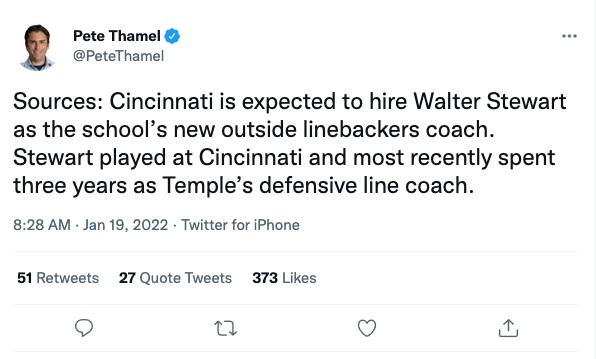 After leaving Ashville for Cincinnati, Stewart played in three bowl games, including the Bearcats' Sugar Bowl appearance his sophomore season in which he recorded five-solo tackles.
Stewart's resume has coaching stops at Northern Illinois, Eastern Kentucky and Tennessee before joining the staff at Temple under head coach Stan Drayton. If that name sounds familiar, he was the Running Backs Coach for Ohio State during the Buckeyes 2014 National Championship run.