Presented by Hometown-Motors, Inc.
Motorists on US Route 50 will need to be mindful of sharing the road this week. And that includes Western Avenue and Main Street through Chillicothe.
Ride Across America Riders (RAAM) are rolling through Southern Ohio this week, beginning Tuesday.
Some will be individual cyclists while other are teaming for the trek from the Pacific Ocean coast traveling east to Chesapeake Bay. Solo riders pushed off June 14th while Teams began pedaling last Saturday.
The challenging course stretches from Oceanside, California to Annapolis, Maryland.
Some may remember the "Go, Joe. Go" signs in recent years, cheering on Chillicothe's own Joe Lawhorn as he road through town. In an interview with Litter Media, Lawhorn, a professional cyclist, said "I knew once I hit Chillicothe, I'd just be on fire. I only had 500 miles left."
Lawhorn said it was the ninth day of the journey and he fought back tears of joy when he reached home. "To get to Chillicothe, I'd ridden 2,500 miles. I know I'm skinny, but I looked worse than I do now, just skeleton. It was a good thing I had that visor on my helmet, so nobody could see… 'cause when I hit Slate Mills, oh… it was just a fountain (of tears).
Tuesday, Lawhorn reminded locals on social media to be courteous to riders.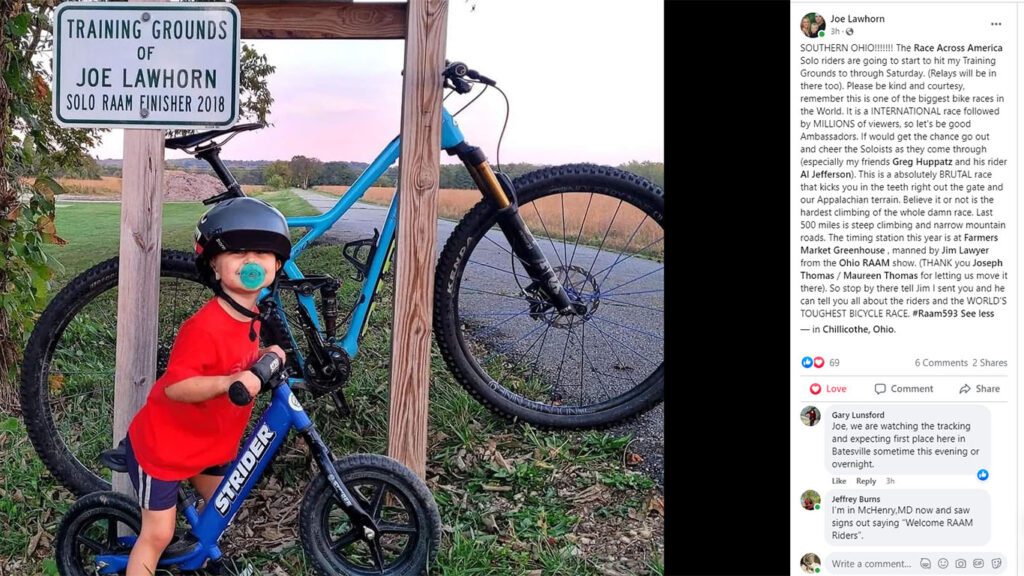 The RAAM website says "The World's Toughest Race" is more than 3,000 miles and has over 170,000 feet of climbing coast-to-coast across America.
When you see a rider and/or a team of cyclists this week, give them room on the road and an encouraging wave or a word… they're reaching the Alleghenies and are nearing the finish line, with 500 miles to go.